Mummmm….Sunday morning. Knowing I can make a pot of coffee and drink at least one warm cup before running out the door for the day.
This is a dish requested almost every weekend. And if were up to my kids they'd eat it every day!
Apple pancakes:
2 large Fiji apples
1/2 stick (4 TBSP) butter
1/4 tsp salt
Juice from 1/2 a lemon
1 TBSP local raw honey
1/4 tsp Cinnamon
6 large eggs
1/4 cup rice flour (white or brown)
1/4 cup milk
Pre-heat the oven to 350. And start by peeling the two apples (I usually use a horizontal veggie peeler) and then core and slice them into 1/8 in slices. Meanwhile heat a large cast iron skillet over med heat. Add 1/2 the butter, the apples, salt and cinnamon. Sauté it around for about 5 minutes until the apples start get some color. Then add the lemon juice and the honey and cook for about 1 minute more.
Add the remaining butter and give it a good stir to make sure there's a pretty even distribution of apples in the pan.
Now whisk together the eggs, rice flour and milk until it's lump-free. And carefully pour that over the apple mixture, into the skillet. Be careful not to stir it once you put it all together in the pan, otherwise you'll end up with apple-scrambled-eggs.
Gently set the entire skillet into the preheated oven for about 10 minutes, or until it's set and the center is firm – but not brown.
This is what it will look like when it comes out: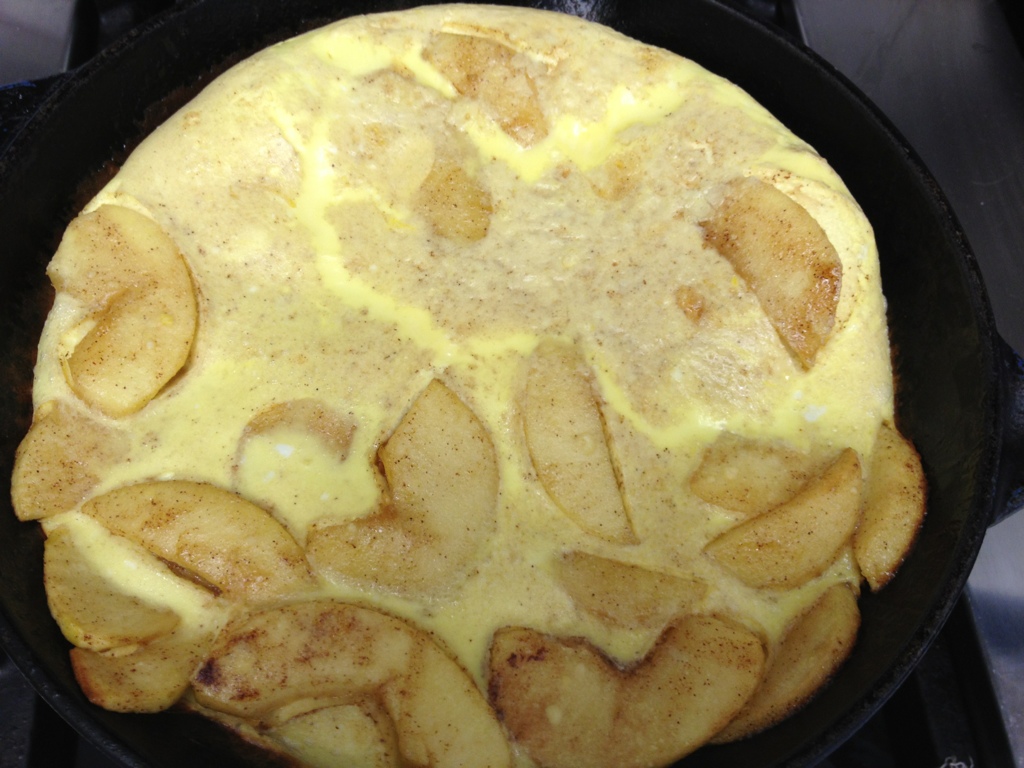 I cut mine into pizza like slices and my son likes his with maple syrup ( only Organic Grade B of course) but I eat mine just by itself. I find it sweet enough on its own with the apples and honey.
But…. a little dusting of powdered sugar sure is a show stopper!
And if you're looking for a grain-free alternative try substituting almond or coconut flour for the rice flour!