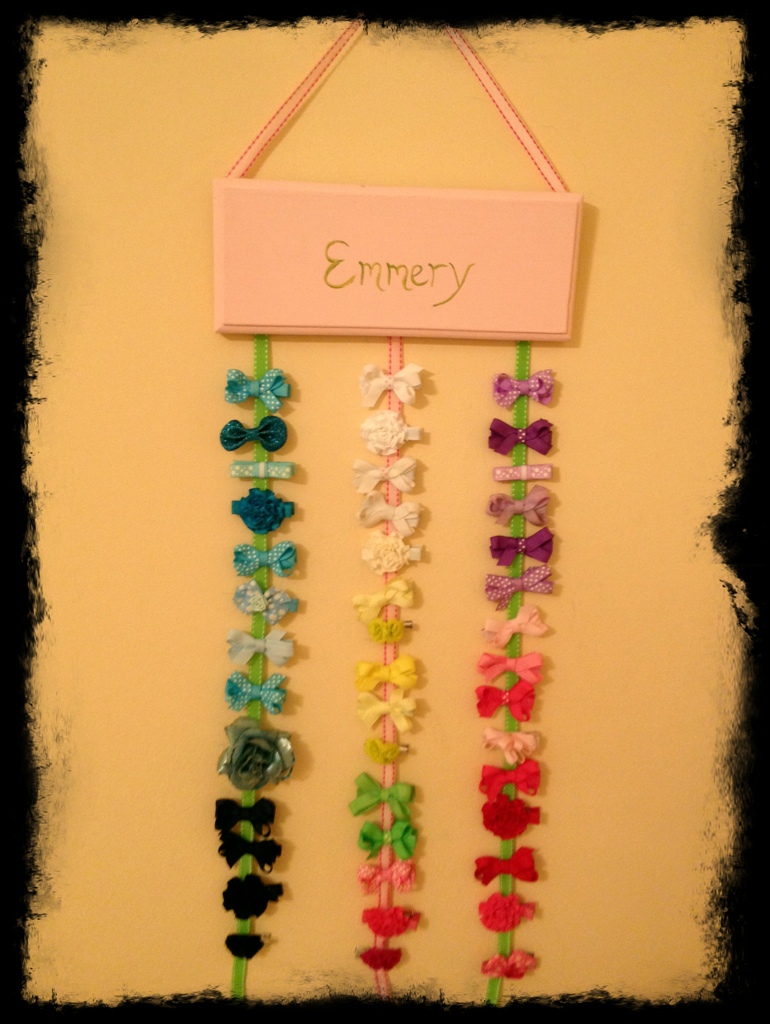 This was by far one of my favorite presents received for my daughter last year. My dear friend Abigail made it for her and it's a beautiful way to hold all the endless hair bows she has. Prior to this creative little gift I was constantly loosing, and finding, bows all over the place. How many times have you reached into your purse to get a rubber band to get YOUR hair out of your eyes but all you can find is one of your daughter's little clips. So you put it in your own hair out of desperation and forget about it. Then wonder why you're getting the "brow furrow" from the stock boy at Trader Joes, you know the one that normally checks you out. Hours later when you glance in the mirror, you know why. Just one of the many reasons I love that I have a beautiful and designated spot for hair clips.
Directions:
Buy a simple wood plaque that you can find at any craft store, about the size of a large paper back book . Then paint it any color you like and write the child's name on it. If you can freehand it then go for it. I'm more of a "measure twice, cut once" gal when it comes to lettering. I suggest using a pencil to write it out first and make sure you like the spacing and all. I would also draw a line with a ruler to make sure it's super straight. At this point you can bedazzle the bejesus out of it if you like (even hot gluing little jewels on the lettering), paint some flowers etc or just leave it plain. Take a coordinating grosgrain ribbon and staple it to the back of the wood so that they hang down in three long strands. I suggest grosgrain and not anything more delicate as it'll get lots of wear and tear. I also don't suggest using any ribbon that has wire in it as it tends not to weather the storm of fickle young girls and their morning bow making decisions well.
Attach another ribbon at the top to hang it by and there you have it.